Presenter Instructions
Oral Presentation Instructions
These are for Main Conference papers only.

Each presenter should prepare a 15 minute talk and anticipate questions (3-5 minutes). You will be using your own laptop. If you need to borrow a laptop, contact cvpr11 xatx vast.uccs.edu. Talks are being broadcast to a video overflow room so practice using your mouse as your pointer. Show up for your session 20 minutes early to test the video compatibility. Oral Presentations DO NOT have posters.

Poster Instructions
These are for Main Conference Posters. Workshop posters and Doctorial Consortium MAY have different rules -- check the workshop/doctorial consortium web pages.

Poster size = 4'x 8' (1.2m x 2.4m) maximum (4' tall x 8' wide or 4' veritcal x 8' horizontal) see picture.

Push pins will be provided.
Poster boards will be numbered. Your poster number will be the number beside your title in the printed program.
Your poster is only displayed during your poster session. Please take down your poster at the end of your session.
We will be using 4'x8' double sided poster boards.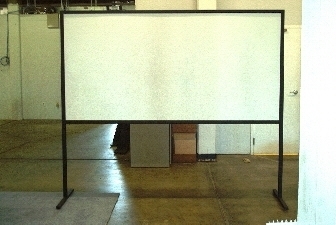 Terry's Tips for effective posters are listed in this example powerpoint poster template.
Note the template is 48x21 and should be printed at 200% magnificaiton. (Powerpoint does not allow a size of 96x42). If you provide the template to a printer, tell them the desired final size. Mind-studios will print it at 200% unless you tell them otherwise.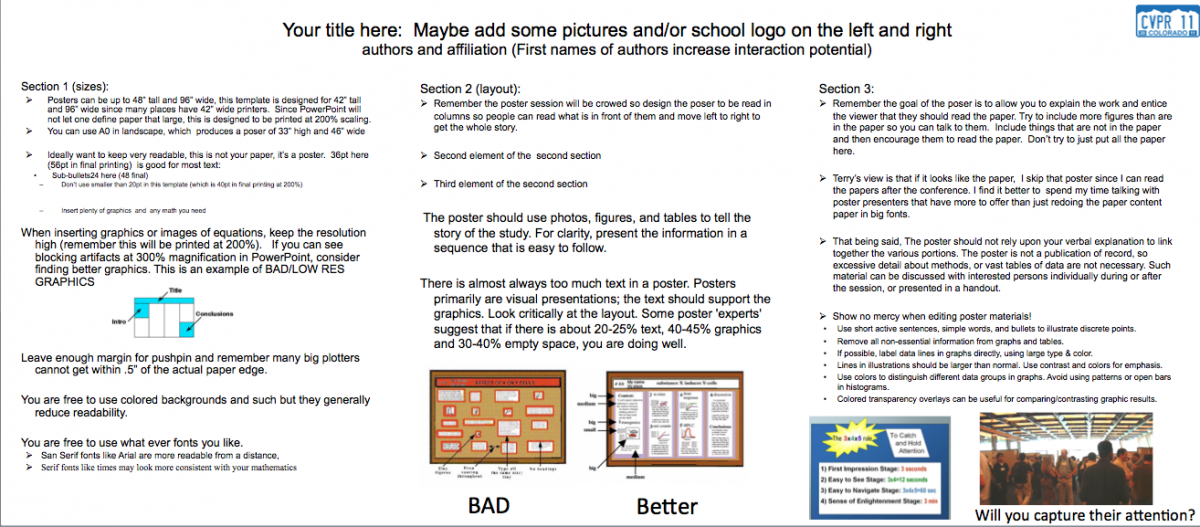 Local Poster Printing with delivery to the conference hotel
For the convienence of the CVPR attendees (as well as supporting a student lab at UCCS) we have arranged for the MindStudio lab at UCCS to full color print posters, up to 96"(wide)x42"(high), and deliver them to the conference hotel, at a price of $100 per poster if ordered/paid/uploaded before June 14, and $150 if ordered up to June 18. This can save authors both money and the pain of traveling with the poster.
Local poster printing upload and payment details can be found at
http://www.mind-studios.com/pages/CVPR2011.html
Don't wait until the last day!